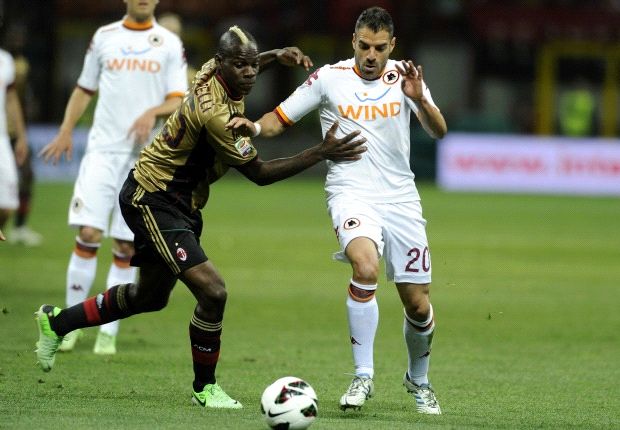 Fines and tough talk are no longer enough in the fight against racism in Italian soccer, with another ugly incident taking place last weekend.
Mario Balotelli was the toast of Italy last July while leading the Azzurri past Germany and into the Euro 2012 final against Spain. His two cracking goals stunned the Germans in the semifinals and told the world that Italy was back and that Super Mario has arrived.
And now 10 months later, Italian football sent the world a different type of message with Balotelli an unwilling centerpiece of the latest firestorm.
A match between Roma and AC Milan on Balotelli's home pitch at the San Siro was briefly suspended on Sunday due to racist chants directed at Balotelli and his teammate Kevin Prince-Boateng. Balotelli was born in Italy to Ghanaian immigrants while Boateng was born in Germany to a German mother and a Ghanaian father and plays for Ghana's national team.
Roma supporters were responsible for the awful taunts which prompted match referee Gianluca Rocchi to suspend the match briefly after warnings issued over the stadium speaker system went unheeded. Roma captain and legend Francesco Totti even tried to appeal to the fans but he was mainly ignored.
So here you had two of the Italy's most famous players -- one a star of the 2006 World Cup, one the star striker who will try to help Italy raise the trophy in Brazil – unable to stop the tidal wave of racism. The incident was yet another sad moment for Italian football which seven years ago was rocked by a match-fixing scandal.
For Serie A and FIFA, soccer's governing body, the events require swift and immediate reaction. The league fined Roma $65,000 while FIFA president Sepp Blatter took to Twitter to express his outrage.
"Appalled to read about racist abuse in Serie A last night," Blatter tweeted Monday. "Tackling this issue is complex, but we're committed to action, not just words."
A monetary penalty and a strongly worded tweet are not good enough. A stronger message needs to be sent, especially in light of what Roma general director Franco Baldini said of the incident. Baldini questioned whether the chants were even racist in nature and felt that Milan's supporters were just as much to blame.
"The boos were directed at Balotelli because he's a feared player," Baldini told
Gazzetta dello Sport
. "The nature of the chants was not clear. And I clearly heard the Milan fans chanting 'romano bastardo' — 'roman bastard' — which is just as discriminatory. It's difficult to figure out where the border is between racial discrimination or simple boos."
Clearly, the referee and Totti managed to decipher what was being said. "Simple boos" do not cause a match to be suspended. Racist chants, not simple boos pushed Boateng and his teammates to walk off the field in protest last January in a friendly against a fourth-tier Italian club.
It's not enough for the players to simply be outraged. Club and league officials need to be unified and it eventually comes down to fellow spectators to police themselves and identify the culprits.
"The perception is still that in certain areas of the stadium you can do anything," Italian players' association president Damiano Tommasi said. "It's important to make those people feel more and more in the minority."
Tommasi is right, of course. Some fans feel that paying for a ticket gives them the freedom for anti-social behavior. It is time to send a powerful message that racism has no place in soccer.
It's time for Italian football to have its Balotelli moment.