The Germany international has underlined FCB's desire to make amends for last year's loss and is keen to follow in the footsteps of Zinedine Zidane.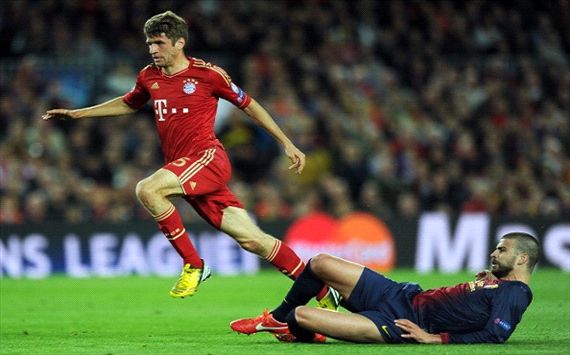 Thomas Muller
has made it clear that
Bayern Munich
is desperate for Champions League glory this term after missing out on the European title in 2010 and 2012.
The Bundesliga champion beat Barcelona 7-0 on aggregate in the semifinals to book a ticket for the showpiece against Borussia Dortmund on May 25 and Muller has stressed that the players all fired up to bring the trophy back home at last.
"We came so close last year, but we've come back even stronger this term. We've shown exactly the right reaction from start to finish. Every player is extremely fired up," the Germany international told the official Bayern website.
"We've sent out a signal in this semifinal and we don't want to be stopped now. We have a huge desire to pick up this cup. I don't know how it would feel if you make the Champions League final three times in four years as a pro and still don't win it."