The creative midfielder is already looking toward the future after his side's Champions League elimination and wants to wrap up La Liga as soon as possible.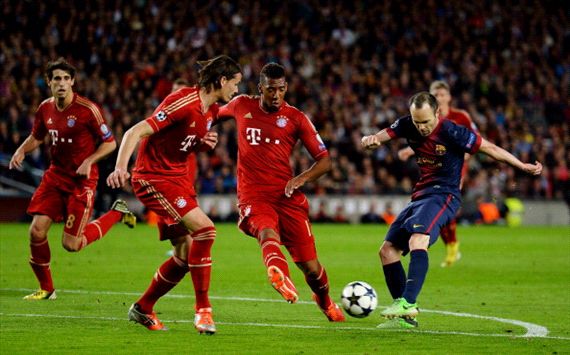 Andres Iniesta
has stressed that
Barcelona
must learn from its mistakes against
Bayern Munich
as the club aims to challenge for top honors in the Champions League again next year.
The Catalans were beaten 7-0 on aggregate in the semifinals of European club football's elite competition, yet Iniesta is hopeful that the defeat will benefit Barca in the long term.
"This defeat needs to teach us how to learn from our mistakes. We've seen that there have been some [mistakes] during these two matches," Iniesta told the official UEFA website. "But defeats, if you use them well, are how to improve for the future. Next year we'll be back trying to win this tournament again. We gave our all to beat Bayern but for a number of reasons - their physical power, their positional play and other things - they deserved to beat us. In the away leg and in this match they were better than us.
"They are in form and it shows, but it stings us that we didn't compete at our normal level. You are left knocking at the door of the final and that's very sore. Now it's time to win the league and to feel good about having done so."
Barcelona will be crowned Liga champion this weekend if the club beats Betis and Real Madrid drops points against Valladolid.