The Blues became the first-ever holders to be eliminated at the Champions League group stage, and the Brazilian wants to make amends in the second-tier competition.
Chelsea
defender
David Luiz
says that his club is determined to win the
Europa League
as it aims to lift a trophy once again after last season's
Champions League
success.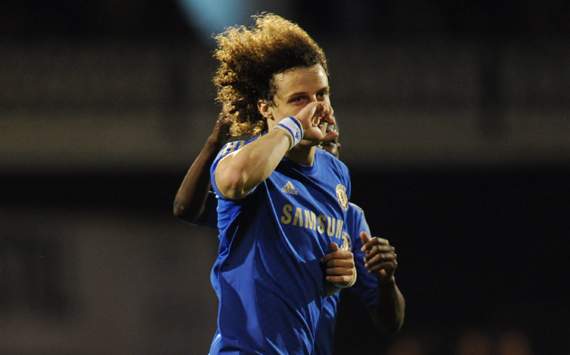 The Blues became the first-ever holders to be eliminated from the group stages of Europe's premiere club competition earlier this season, and they were forced to hand back the trophy that they won at the Allianz Arena in April, as UEFA tradition dictates.
Chelsea has a chance to make amends by lifting the Europa League trophy but must first get past Basel. Rafa Benitez's side holds a 2-1 advantage heading into Thursday's second leg at Stamford Bridge and Luiz insists that his teammates are motivated to reach another European final.
"The Europa League is very important to us," he told
Goal.com
. "It was fantastic to win the Champions League last year. We're working to win the Europa League the same as we did to win the Champions League. We have the same attitude and desire to win.
"It was difficult to return the Champions League trophy and the European title. I hope to have the privilege to be able to lift it again. But for now we want to win the Europa League which is our chance to win a trophy this season and we're taking it seriously. Chelsea are a team which always wants to challenge for trophies."
While he is taking nothing for granted, Luiz hopes that he could face his former team Benfica in the final in Amsterdam, with the Portuguese club needing to overturn a 1-0 deficit against Fenerbahce.
"If we beat Basel - and it will be very difficult because they are a very good team which made it hard for us in the first leg and will give us a hard match again - the final will be against Benfica or Fenerbahce," Luiz said. "We'll see what happens but, if we get to the final, it will be a great final, a great match which we want to win. If it's against Benfica I still want to win it."
Luiz has shown himself to be highly adaptable and looks just as comfortable in defense as in midfield, with Benitez positioning the center back further forward on occasion this term, but the Brazilian says that he enjoys being able to switch focus.
"I like to play between the zones," Luiz said. "It depends on the function. I'm happy in both positions. As a defender I still have a lot to learn. I'm becoming a better player. When I attack it depends on the function I'm given and on the opponents whether I can get forward more.
"I think the most difficult opponents are the ones who keep the highest level of football. There are a lot of excellent players, with big clubs. I can't name one individual, they're all of high quality."
The 26-year-old's repertoire includes some fantastic long-range shooting and free kicks -- including his one that won the first leg against Basel -- but he is adamant that there is nothing but hard work to explain his goalscoring heroics.
"I train every day," Luiz said. "It comes naturally when you train a lot."