More CONCACAF players played for Man United than any other top-four club in Europe during Sir Alex Ferguson's time.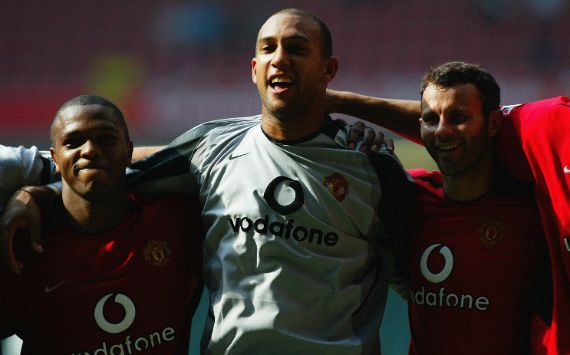 Sir Alex Ferguson's retirement from Manchester United had a global impact on the sports world Wednesday morning, and for good reason.
During Ferguson's 26 years in charge of the Red Devils, United became an international club with an extensive scouting unit that was not afraid to take chances on players from outside of Europe.
One of Ferguson's greatest successes during his tenure was developing reliable knowledge of talents in CONCACAF. Manchester United recruited more talent in the region than any other top-four club in
any
of Europe's major leagues (England, Germany, Italy, France, Spain). Barcelona comes second, with three players recruited from Mexico and one U.S. youth trainee.
It started with the club signing American forward Jovan Kirovski to a youth contract in 1992 and has steadily progressed, eventually leading to star Mexico striker Javier "Chicharito" Hernandez in 2010 for a fee of 10 million pounds. Over the past two decades, Ferguson had the unique foresight to realize the potential of the athletic ability and growing skill of Americans and the technical prowess of Mexicans.
Four of Ferguson's nine notable CONCACAF recruits had reasonable success with United. Dwight Yorke (Trinidad and Tobago) became a superstar in Manchester. He was part of arguably the team's greatest season ever, 1998-99, when the club won the treble. Yorke added two more titles during his spell with the Red Devils. Hernandez won two EPL championships. Tim Howard (USA) won an FA Cup and Carling Cup. And Owen Hargreaves (a sore spot for Canucks as he spurned Canada for England, but he was born in Calgary, Alberta) was part of the 2008 double winning side that took home the EPL title and Champions League trophy.
Three of the remaining four recruits have all had productive careers elsewhere.
Kirovski became the first American to win the Champions League, with Dortmund in the 1996–97 season. Giuseppe Rossi (born in America, plays for the Italian national team) became one of the world's most prolific strikers at Villarreal before injuries derailed his past two seasons. He should make a recovery at his new club, Fiorentina, next year. Jonathan Spector (USA) only played three matches for United but featured heavily during his five-year stint at West Ham and is an important role player at Birmingham. Kenny Cooper (USA) has been a dominant in his time in MLS, scoring 66 goals in 157 appearances.
Only Ian Joy (USA) had a so-so career between 2000-10, bumping around Germany and the United States.
The Red Devils' ability to find undervalued talent in the region motivated other teams to follow suit. Heck, for better or worse, half of Wigan's roster is from CONCACAF. Liverpool gave a chance to Brad Friedel and desperately pursued Clint Dempsey last summer. Arsenal offered opportunities to Danny Karbassiyoon and Carlos Vela. We're still waiting on Chelsea and Manchester City, though the London Blues added Mexico starlet Ulises Davila last year.
United has often been the standard bearer for English soccer. Whoever (likely David Moyes) takes over the reigns of the storied club should continue in Ferguson's footsteps. Last I checked, Howard became a world-class keeper under Moyes' watch.