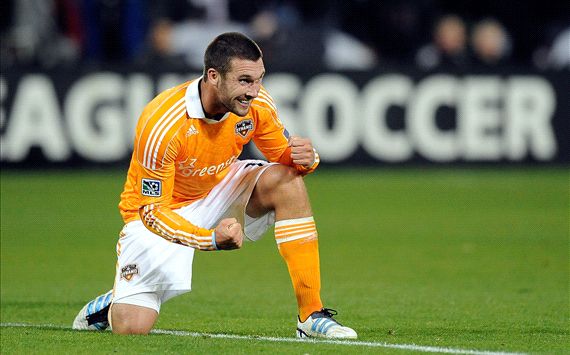 The Houston Dynamo forward notched two goals and two assists to break out of an individual funk and help his side to its second road win in four days.

WASHINGTON -- The ribbing and bear growls came from different sides of the visitors locker room at RFK Stadium. Will Bruin took it all with a grin on his face. And for good reason.
After a subdued start to his season, the third-year Houston Dynamo forward, nicknamed the Dancing Bear, turned in a virtuoso performance, breaking out with two goals and two assists in a 4-0 win over D.C. United Wednesday night to keep his club in prime form and on pace for top billing in the Eastern Conference table.
"The Dancing Bear came out of hibernation tonight," Dynamo captain Brad Davis said.
Coming off a season in which Bruin scored a career-best and Houston franchise-record 16 goals in all competitions (including MLS playoffs), his two goals in eight games entering Wednesday's match made for an underwhelming start to his 2013 campaign. The fact that the Dynamo have been able to succeed in spite of that, with four other players scoring multiple goals, mitigated the individual pressure on Bruin, who had felt the end to his slump coming nonetheless.
"It was just a matter of time," Bruin said. "I knew I had been playing well, contributing in the offense and just not getting goals, but we had guys that are scoring, so I don't really care if I score or not as long as we're putting goals in the back of the net, and that's all that matters."
The fact that Bruin broke out against D.C. is of little surprise. Bruin has four multi-goal games in his career, three of which have come against D.C. In nine career games against United he has nine goals.
"I guess it's just a confidence thing," Bruin said. "I should be playing like that against every team, but it is what it is."
Bruin, a U.S. national team January training camp call-up who earned his first cap in a 0-0 draw against Canada in Houston, started his night by latching onto a ball from Oscar Boniek Garcia following a D.C. slip-up and breezed past Dejan Jakovic before expertly finishing with United goalkeeper Bill Hamid rushing off his line.
"The guy works extremely hard week in and week out, and when you do that the goals are going to end up coming," Davis said.
Bruin took advantage of a poor Hamid clearance to square a well-placed ball for Giles Barnes for Houston's second goal that effectively ended the match with his second tally of the night. With Jakovic draped on his back for a Brad Davis free kick, Bruin fought him off to get to Brian Ching's flicked-on header, and he finished from six yards out.
He capped the night by driving down the left flank and deftly crossing a ball off the outside of his right foot to Andrew Driver, who put the finishing touches on the win that has Houston tied with New York on 20 points atop the East, with the Dynamo owning two games in hand.
Bruin nearly had two other goals as well, firing a one-timed effort off the crossbar and pushing another shot from about 16 yards just wide of the post. As Davis eloquently put it, hibernation season is over.
"He makes good runs, he works hard, he's a good finisher, he's brave," Dynamo coach Dominic Kinnear said. "His second goal the guy was hanging all over him, but he's a big strong boy in the box, and I think when you have that along with good movement and a guy who has a great desire to score it goes a long way."