The striker went seven seasons at Arsenal without a trophy but insists that he was always confident of success at Old Trafford after his 25 goals fired the Red Devils to the title.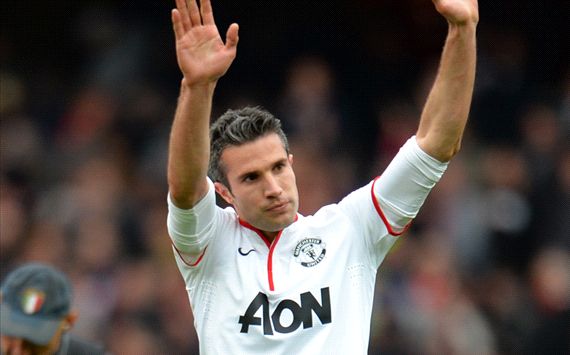 Manchester United
striker
Robin van Persie
says that he had no doubts about leaving
Arsenal
because he was almost certain that he would win trophies this year at Old Trafford.
The Netherlands international won the FA Cup in his first season at the Gunners but went seven years without a trophy under Arsene Wenger, while Sir Alex Ferguson's side collected four Premier League titles as well as the 2008 Champions League.
United has now won the Premier League in the striker's first season at Old Trafford, with the 29-year-old scoring all three goals in a 3-0 home win over Aston Villa in April to seal the title with four matches remaining.
"I wouldn't have moved if I'd had doubts," Van Persie told the club's official website. "Instead, from day one I was almost certain we'd win trophies – not in a couple of years but this year. I could see in everybody''s faces how determined they were.
"Everything is about lifting the trophy. This is the feeling you dream of. We won the UEFA Cup at Feyenoord three months after I started and I remember thinking that winning trophies was part of being a footballer but I've realized since then it's not that simple. I've waited for this for a long time."
Van Persie is set to win the Golden Boot for the second year running, having scored 25 Premier League goals so far this season, but says that his teammates should share the success.
"Even if I'd have scored half the number of goals and we'd won the league I'd still have been happy," he enthused. "The Golden Boot would be like a bonus. In a way it's not an honest award – even if you end up with the most goals in a season, those goals are the team's goals and many will have been made possible by other players.
"You get spells that don't go so well, when you don't score so many goals, and I had one of those this season but that 10-game streak where I didn't score seemed a bigger issue for the media than it was for me. Even so, I kept clearing headers from corner kicks, I cleared balls off the goal line, I set up teammates to score goals. I was never worried that I'd never score a goal again in my life. I'm not a player who only thinks about scoring goals – I want to give football more than that."
Van Persie also revealed that he will not be taking the No.9 shirt next season, despite the slot being vacant. The striker says that his number 20 shirt feels right, and he does not want fans who have bought his shirt to suffer.
He told
United Review
: "I think I'll keep it. I have the option to take No.9 but I don't think I will do that. I'll stick with what is right and what feels good.
"Also, I don't want to be harsh on the fans who have got No.20 on their kit. I don't want them to have to buy a new shirt. It's been a good number for me and now I can at least celebrate the 20th trophy for another year. I'll stick with it."