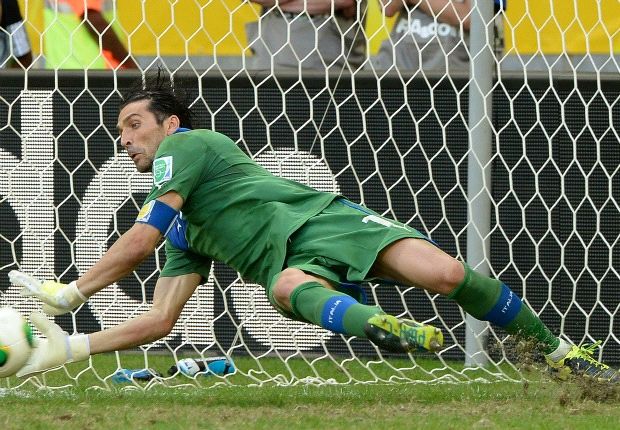 The 35-year-old will equal the former centre-back's appearance tally for Italy if he plays in his nation's upcoming World Cup 2014 qualifiers
Gianluigi Buffon
has set his sights on equalling Fabio Cannavaro's 136-cap record for
Italy
this week.
The 35-year-old will draw level with the former centre-back if he plays against Bulgaria and the Czech Republic in the
Azzurri's
upcoming World Cup qualifiers and admits the feat would bring great satisfaction.
"If all goes well, it would be a great achievement," The Juventus goalkeeper told reporters.
"However, it was predictable in a way given that I started with the national team
at such a young age.
"It will certainly be nice though, satisfying, because I have been in the national side for 16 beautiful years – in the squad since 1997 and a first choice since 1998.
"There is a sense of
honour
when you represent your country. You understand that with time, with maturity. Every appearance with the national side is not just a game, but something more."
Buffon also says that, if the time comes when he loses his place in side, he will accept that the decision is for the good of the side.
"There would be no problem if I wasn't called up or if I was benched. The most important aspect is the team," he continued.
"I personally would not turn down a call up. It would be like spitting in the face of good fortune, something that so many people want but only a few have the chance to experience."
Finally, the world's most expensive goalkeeper gave his thoughts on rumours suggesting Italy head coach Cesare Prandelli will leave his job after the 2014 World Cup, with current Juve boss Antonio Conte replacing him.
"It's not a problem because, like at a club, professional relationships can come to an end. It seems that we are all being gripped by an untimely anxiety," he added.
"With all due respect, we have a World Cup to think about. Our attention needs to be towards that.
"Could Antonio Conte take over? Conte hasn't said that he is leaving Juventus.
"I didn't think there could be candidates for the job already, even if it is normal that a coach
at a certain level would aspire to such a job.
"A lot of people would make themselves available for the job and I think a new coach could be found as quickly as four or five days after the World Cup is over."