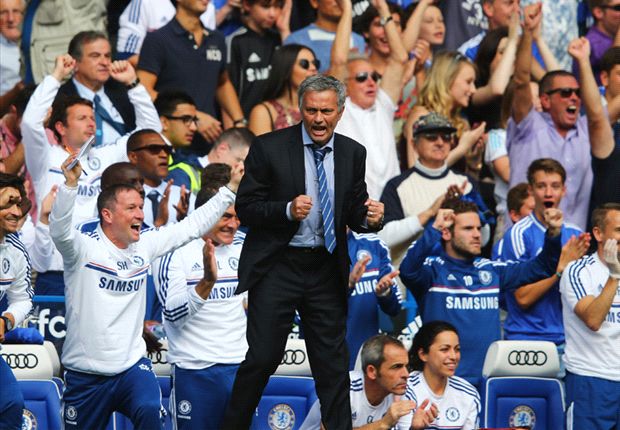 The double Champions League-winning manager feels that his Blues side must convert more of their chances and will struggle to match the success of his first season at the club
Jose Mourinho
warns that success with
Chelsea
will not come as quickly following his return to the Premier League as it did on his arrival in 2004.
Despite several chances, the Blues were beaten 1-0 away at Everton on Saturday after failing to cancel out Steven Naismith's goal just before half-time, the Portuguese's side having dropped five points from their first four games.
Mourinho dropped just seven points from his opening 13 league matches and lost just one all season upon his first appointment but insists that circumstances are different now.
"No, it is not 2004 all over again. Then we lost against Manchester City in October – our only defeat - but that is not the point. We are not unbeatable. This is a different team," he told reporters.
But the double Champions League-winning manager maintains that he will not accept poor results, arguing that his team will improve if they convert their chances.
"We are not a club who will accept in a cool way that things will come. We're going to chase it," he remarked. "I came here to work – I don't say peacefully because I am the first one that does not like to work peacefully – but to work with time, to develop the players and play the best they and we can.
"We have to be effective, be adult and not naive. That is what we have to work on. We have to transform the beautiful football we played into goals.
"The beginning of the season was hard. Away against Manchester United, away in the Super Cup against Bayern, and away against Everton but Saturday was the story of a team with 21 shots that couldn't score a goal. That is the beauty of football.
"