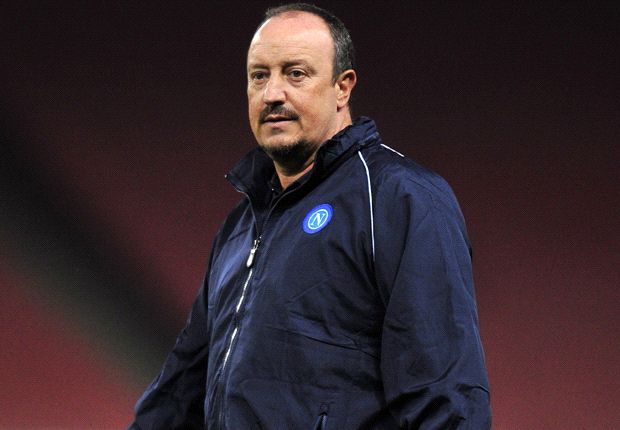 The Napoli boss confesses to his disappointment with Tuesday's Champions League reverse and urges his players to learn from their mistakes ahead of Sunday's clash with Livorno
Rafael Benitez
says he is confident
Napoli
can bounce back from losing against
Arsenal
, starting with their game with
Livorno
on Sunday.
The
Partenopei
were undone by early goals from Mesut Ozil and Olivier Giroud on Tuesday night as the Gunners seized a second Champions League win in as many games.
Speaking in a press conference ahead of Sunday's game, Benitez challenged his players to show they had the quality and hunger to recover from the defeat and close the gap on Roma at the top of the league.
"After London we analysed the mistakes we made and worked out how to avoid them," the 53-year-old Spaniard said.
"Livorno is a different challenge and I'm confident in how to deal with it. It will not be an easy game. They will do their best while we have to prove after the Arsenal match that the team is strong and wants to win. Arsenal are one of the strongest teams in Europe.
"We face this game [against Livorno] with the belief that we have done in so many victories, without hurrying to do well but continuing the same way. It's a chance to do well."
Napoli go into Sunday's game having dropped only two points this season in Serie A - a draw with Sassuolo in September - but will be without the injured quartet of Gonzalo Higuain, Raul Albiol, Juan Zuniga and Christian Maggio.
"They won't play but three have been called up for international duty - they cannot go," said Benitez.
"Higuain, Zuniga and Albiol can't be deployed so there's no point joining up with the national team. And then there's Maggio too, obviously.
"Who will play instead? I'm undecided. I will speak with my pillow."
Napoli are second in Serie A with 16 points from six games, five behind leaders Roma, while Livorno are ninth.