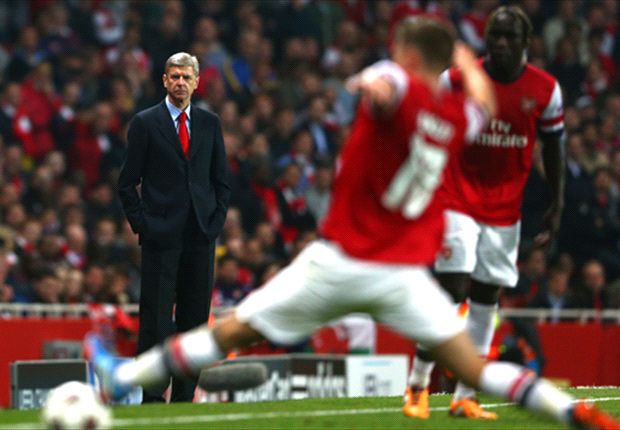 Arsenal
boss
Arsene Wenger
has warned the Premier League title contenders that there is plenty more to come from his in-form team.
The Gunners sit at the top of the table following a 2-1 win at Swansea City gxand travel to West Brom on Sunday looking for what would be their 11th straight win in all competitions.
Wenger has attributed his side's recent run of form on a new-found self-belief and he expects the team to get even better as the season continues.
"For us it is important to maintain our consistent run and to continue to develop as a team because if you look at the broader picture we have had quite a good consistent run since March, but it is important of course that we continue to develop," Wenger told
talkSPORT.
"I believe we can still do better, that there is more to come from us, but that will depend now on how much we want it and how hungry we are to improve.
"We have managed to get a better defensive stability, and afterwards maybe a turning point is our game at Bayern [Munich], when everybody expected us to be trounced, to lose by six or seven, and after that also the fact that we could manage a consistent run towards the end of the season; that convinced the players that we must have some qualities.
"I believe as well, the consistency of our results comes from a greater attitude of the players - but let's not forget we have won nothing and that is all to do. We have to continue to have that hunger attitude, to improve from game to game."
The Gunners have already faced West Brom this season, knocking them out of the Capital One Cup on penalties, and Wenger warned his team of the Baggies' threats following last weekend's 2-1 win over Manchester United at Old Trafford.
"It is a massive game for us and an exciting game as well, because both teams have full confidence and have quality," continued the Frenchman.
"We play with the same desire and the same attitude, and as well because we have a level of confidence that is there.
"But West Brom represents as well a good test for us because, on the back of an outstanding result at Manchester United, their confidence is certainly high as well, so it will be a very interesting test."