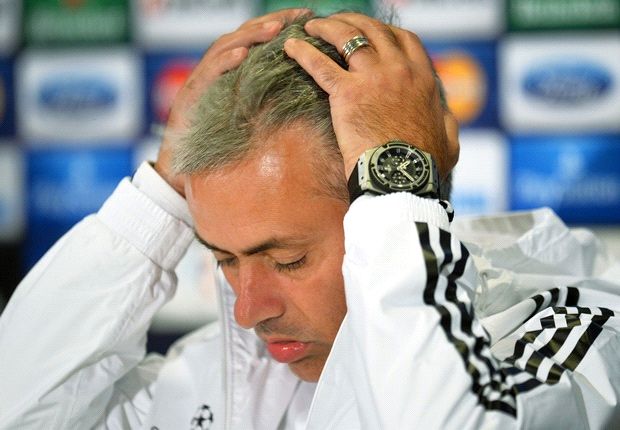 The former Real Madrid coach wants the Blues to improve on the inconsistency they have shown in recent seasons, and has warned them not to "drop the garbage" against Norwich
Chelsea
manager
Jose Mourinho
says that he must improve his team's "mental stability" if they are to be consistent enough to win trophies.
The Portuguese won two Premier League titles and three domestic cups in his first spell at Stamford Bridge but, after six years away, feels that the squad are lacking the victors' spirit of that period.
"We have to be better," he told the press. "We have to score more goals, to defend better than we have, to be more consistent from the first minute to the last one.
"We're not strong enough now to have that run of victory, victory, victory that we want. We will, for sure, but not now. It will come from work, work, work.
"I need to change their mentality, make them feel and accept the responsibility of playing for a big club with big ambitions, where we can't go win, lose, win, lose, but this mental stability is hard to get.
"Two years ago, we won the Champions League but finished sixth [in the Premier League], 25 points behind. Last year, we were out of [the title race] by December or January.
"You cannot win leagues with this kind of team personality. Yes, there were some fantastic performances but it's better to win eight games 1-0 than win one game 8-0 and lose points in other matches. This is the mentality we have to build.
"Before, they learned how to live without pain in a situation where, with that other mentality, it would be painful.
"The day I lose and go home with a smile ... it'll be 'Goodbye!' I finish!"
Chelsea lost their first Champions League group game of the season to Basel before recovering in midweek to beat Steaua Bucharest 4-0, and the Portuguese revealed that he had told his side to "clean the garbage" of that initial defeat.
"We know we can't win every game, every competition, but we have to play every game of every competition to win," he explained. "Then, if you lose because the other team was better, you accept it without a drama.
"After Basel, I told them they could not cry or be depressed, that they couldn't hide, and to go and clean the garbage.
"I will tell them at Norwich: 'Don't drop that garbage again'.
"