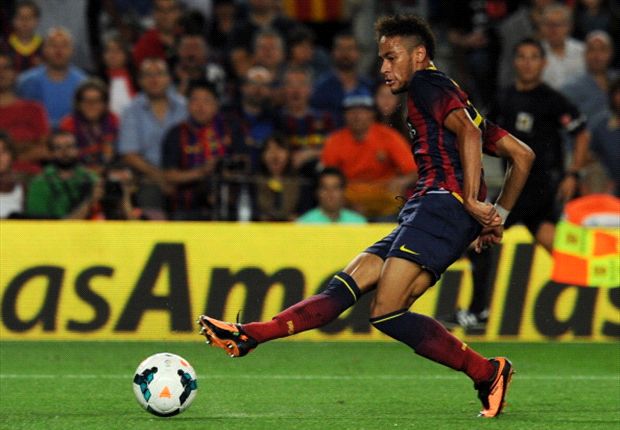 The coach also praised Alexis Sanchez and Cristian Tello for stepping up to the mark in the Argentine's absence, as the Blaugrana strolled to victory at Camp Nou
Gerardo Martino
saluted
Neymar
as being just as influential for
Barcelona
as talisman
Lionel Messi
following the team's 4-1 triumph over
Valladolid
.
The Argentina international missed the match due to injury but his fellow South American slotted into the No.10's role seamlessly.
And it was the Brazilian prodigy's impact, in conjunction with Alexis Sanchez and Christian Tello's form, that had Martino purring after the game.
"He [Neymar] is a player that, like Messi, no matter whether he plays left, right or centre, always plays well," Martino enthused to reporters.
"Neymar dominates every facet of the game and keeps striving to improve. In two months, he has integrated into our system. It is very difficult to find such players of his age.
"Alexis knows the opinion I have of him as a player. I had said I wanted to see the Sanchez that played for Marcelo Bielsa's Chile. He played an excellent game today.
"Tello played a fine, he created various situations for us and made a decisive goal for us. It isn't easy for him as he's played less minutes."
Martino is the first coach in the history of la Liga to win his opening eight matches but he was more satisfied with the way in which his side had responded to falling behind early on.
"In the first part of the game we lacked intensity but I liked the second half my team put on, we had control of the game," the 50-year-old concluded.
"I always had the feeling we were in charge. We only have to improve on the first 20 minutes."