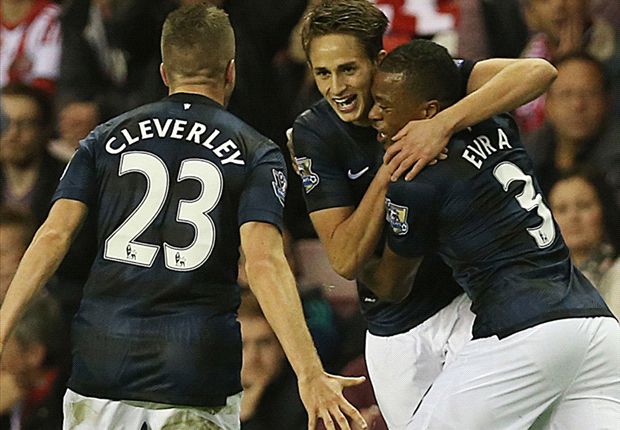 The 18-year-old's match-winning double displayed his world-class potential but David Moyes and Co. face a fight to ensure that his talent continues to blossom at Old Trafford
Manchester United
fans of a certain age will remember exactly how they felt when they first laid eyes on a fresh-faced Ryan Giggs during his league debut against Everton way back in 1991. Twelve years later, those memories were evoked when Cristiano Ronaldo came on for his first appearance for the Red Devils against Bolton. A decade on,
Adnan Januzaj
stepped off the conveyor belt to take his step into the limelight.
Though he wore the No.44 shirt against Sunderland on Saturday, there is now a sense at Old Trafford that 18-year-old product of the Anderlecht acadamy, who joined for €350,000 in 2011, could go on to become another in the line of United's great No.7s.
Prior to his heroics to at the Stadium of Light, Januzaj's displays on United's pre-season tour, coupled with an eye-catching cameo against Crystal Palace, had given the club's fans an early glimpse into what was to come. He offered disgruntled supporters something to cling on to as the defending Premier League champions made a stuttering start to life under David Moyes.
When Craig Gardner opened the scoring on Saturday evening that stuttering start was in danger of developing into something of a crisis.
But with Wayne Rooney and Robin van Persie toiling, the 18-year-old took centre stage.
After ushering the ball out wide to Patrice Evra, he provided an example of his composure seconds later, making his way into the box, as instructed by his manager at half-time, before guiding the Frenchman's low cross into the back of the net.
He followed that with a picture-book volley which flew across Keiren Westwood and inside the far post, by which time it was clear that a new Manchester United star had been born.
Credit must go to the increasingly criticised David Moyes; Januzaj's inclusion was definitely a risk. The Scot would have been expected to start with a more conservative option on the wing, namely Danny Welbeck or Antonio Valencia. Or Shinji Kagawa.
Perhaps given heart by the youngster's goal in midweek for the reserves against Bolton, which Januzaj's parents were in the stands to witness, Moyes ventured a gamble. He has form in this regard, having given raw talents like Rooney and Ross Barkley debuts at Everton, and this was a decision of which Sir Alex Ferguson would have been proud.
Yet a buoyant night for United fans was partially punctured as details of the youngster's future were put under the microscope. Moyes brushed off questions on the matter in his post-match interviews, but there is more than a quiet concern behind the scenes at Old Trafford.
As it stands, Moyes and the United chiefs face a battle to keep hold of the mecurial talent. The 18-year-old's contract runs out at the end of the season and the club have already started to roll out the red carpet for the player and his parents.
United have reservations about the player's agent, Dirk de Vriese, who they suspect may try to manufacture deals elsewhere for the youngster, with Bayern Munich and Barcelona two suggested destinations.
The reality is that Manchester United will have to succumb to his agent's demands and change their wage structure to reward Januzaj with a bumper contract.
There is a growing concern he may follow in the footsteps of Paul Pogba and become another potential world-class talent that got away.
This particular juncture in Januzaj's fledgling career is further complicated by the decision that needs to be made concerning his international future: the attacker must decide whether to represent Belgium or Albania,
while the English FA have expressed an interest in him, too.
For now, Januzaj has catapulted himself into Moyes' first-team, helped by the fact that Ashley Young, Nani and Antonio Valencia have taken a combined 83 league games to match the two goals that the 18-year-old notched on his very first start.
It's easy to get carried away when a youngster performs so impressively. There are a long list of 'next big things' who never quite made the grade, and United have recent experience in the shape of Federico Macheda and, arguably, Ravel Morrison.
But Januzaj is on his way to the top, and Manchester United must ensure he makes that journey at Old Trafford.