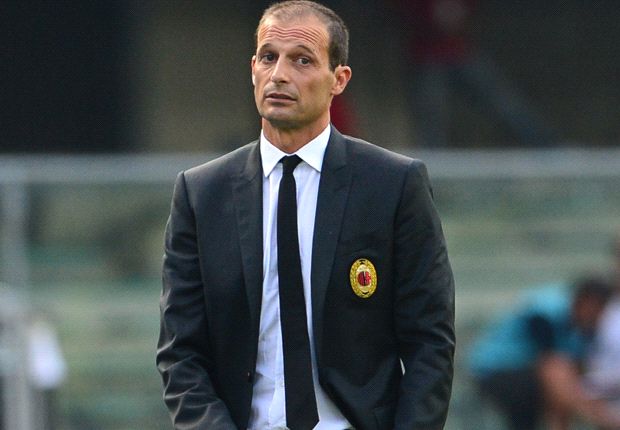 With the scores at 1-1 following the first leg Champions League playoff in Eindhoven, the Rossoneri coach has promised his side will go out to win the game at home
Massimiliano Allegri
has warned
PSV
that
AC Milan
will go at them all guns blazing in the second leg of their Champions League playoff on Wednesday.
The Dutch side must score at least once to have any chance of qualifying for the group stages following a 1-1 draw at the Philips Stadion a week ago, but despite holding the advantage of an away goal, Allegri says his men will be going all out for the win.
"We must have a positive attitude," Allegri told the official club's website.
"We played a good match in the first leg, now we have to think about winning this match and not conceding a goal.
"We know how important the game is. We are facing a team that plays good football and that made life difficult for us.
"They create a lot of chances and we should not think about playing a defensive game."
Stephen El Shaarawy's opening goal was cancelled out on the hour by Tim Matavz's equaliser, and the Italian giants were lucky not to go home beaten after Phillip Cocu's young side created a host of chances.
The
Rossoneri
were also well below par in their Serie A opener at the weekend – ceding a one goal lead to go down 2-1 at Hellas Verona.
Yet Allegri believes that defeat will only inspire his team to deliver the goods in Europe.
"Verona has to be just a blip. We must bounce back from that game and go back to the performance against PSV," he continued.
"For the first time in my three years in charge there was a bad approach to the game. Then there were also some mistakes in the reading of the game and those are things we can improve on.
"Errors are part of the game but what mustn't happen is the same approach as Saturday.
"We can do really well, we will have to suffer a bit and we must not think that we automatically deserve to win because of who we are."
Allegri's cause is not assisted by a lengthy list of absentees, but the 46-year-old is confident Brazilian striker Robinho could feature.
"Unfortunately Robinho picked up the injury just as he was hitting full fitness," he said.
"Robi is a quality player and he has done very well at Milan. This is an important year for him, he is out to prove himself."