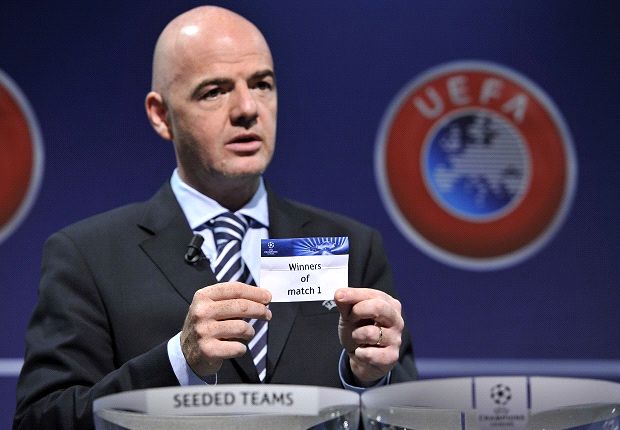 Old order preserved as European football's governing body continues to safeguard the positions of traditional Champions League teams at the expense of new contenders
This Thursday in Monte Carlo, delegates of Manchester United, Arsenal, Chelsea, Real Madrid, Barcelona and Champions League holders Bayern Munich will take their seats for the draw for the group stages of the 2013-14 competition. Such is the predictability of things these days, not more than one of those traditionally strong European teams will be disappointed following proceedings because Uefa has ensured that as smooth a path as possible is laid on for the top seeds.
Those clubs, Uefa darlings in the biggest television markets, have things put in their favour come draw time. It is neither just nor fair. Too often the group stages of the Champions League are a procession for top-ranked clubs who stroll to qualification after 66 per cent of the match days.
Complacent and under-performing 'elite' sides never find out what life is like for a team in pot 3 or 4 when they are only deserving of that place. For accuracy and fairness, Uefa must alter the criteria for working out which teams rank highest or else consider a free draw right from the off.
There is an insurance policy for the traditional elite which belies any notion of meritocracy for qualifying teams which stretches, even, to needlessly keeping sides representing the same national association apart until the quarter-finals. As national associations at the top end of Uefa's coefficient ranking are the ones which supply multiple Champions League teams, the favouritism in the draw is preserved.
"There has never been a club from pot four winning the Champions League," Borussia Dortmund CEO Hans-Joachim Watzke bluntly pointed out when his side drew Real Madrid and Manchester City in the group stage of last year's competition.
To cut three or four seasons from the coefficient totals would be one place to start. The Champions League ranking, based on each qualified team's performances over the past five terms, simply does not accurately reflect the strongest clubs on the continent. It offers too easy a ride for those clubs who have banked 'coefficient credit' over a long number of seasons but whose progress has recently slowed.
Conversely, it fails to acknowledge in any significant way the teams who have recently come to the fore in European competition and who have surpassed, in a contemporary sense, those clubs whose positions in the higher pots are safeguarded due to past performances.
Juventus, in their first season back in the Champions League, went as far as the quarter-finals. They were eliminated only by the champions-elect, Bayern. And yet the Old Lady still finds herself wallowing in pot 3. That Juventus were beaten by Fulham in 2010 in the Europa League should not have as much of a bearing as it does. If teams were ranked only on their form in Europe one season prior, it would be a more accurate guide of who deserves to be where.