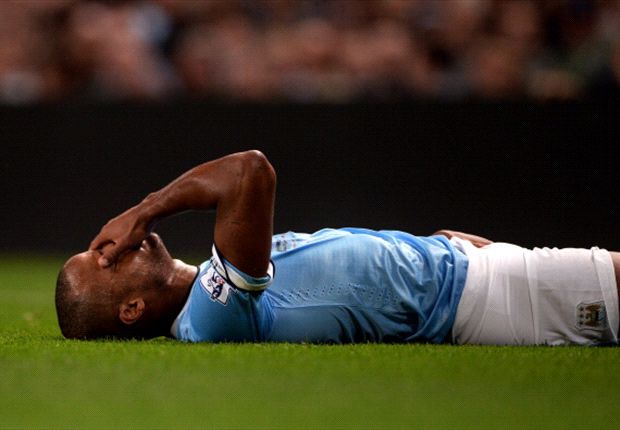 The centre-back injured his groin against Newcastle on the opening weekend of the season, and is hoping for a speedy recovery after seeing his team lose 3-2 to Cardiff City
Manchester City
captain
Vincent Kompany
is targeting a speedy recovery from the groin strain suffered against Newcastle United nine days ago.
The centre-back will miss Belgium's World Cup qualifier against Scotland on September 6 having sat out City's 3-2 defeat at Cardiff City on Sunday.
Kompany is not downbeat over the injury but admits that he faces a race against time to be fit for the crucial derby clash with Manchester United on September 22.
"I'll be out for a little while but not too long," Kompany told the club's official website. "I may miss the internationals but I hope to be back after that.
"I've been here before and I'm going to work hard to get back as quickly as possible. There are worse things that can happen but the only disappointment is that the season began so positively for me and everything went really well during pre-season.
"There is a protocol to follow with any injury and there is a time scale that goes with that. If I follow that schedule, I know when I'll be back in a certain amount of weeks and possibly sooner.
"It is a freak injury that has nothing to do with the previous problems – it can happen - but I know when I return I'll be absolutely fine."
Goal
revealed on Tuesday that City had agreed a €4.6 million deal with Atletico Madrid for defender Martin Demichelis
, and Kompany is pleased the club are continuing to strengthen in light of rival clubs undergoing similar makeovers this summer.
"I haven't kept in touch with any speculation so I'm not sure but with a few days to go I'm sure it is a possibility as it is at any club of this size," he continued.
"It is going to be an interesting season because Jose Mourinho is back at Chelsea, Sir Alex Ferguson has retired and we also have a new manager.
"People will wonder how we will all perform in what is a new era for all three clubs and the pressure is on all of us to do well, but at the same time, everything has changed and it will be interesting for the fans and for us as well."