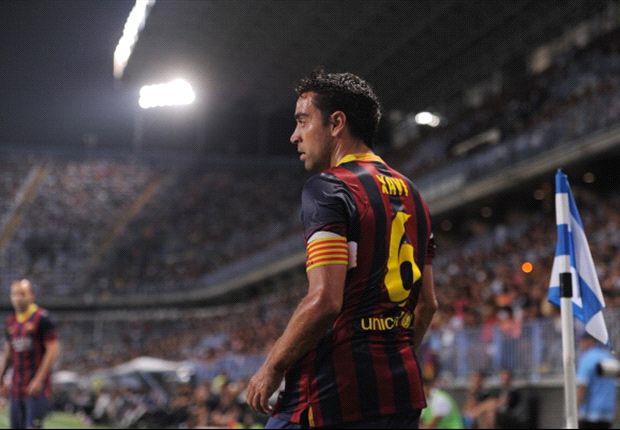 The 33-year-old is widely regarded as one of the Blaugrana's greatest ever players, and he says the desire to succeed is as great as it was when he started out 15 years ago
Barcelona
midfielder
Xavi
says he has more desire than ever to win more trophies as it becomes harder each year.
Wednesday's Supercopa de Espana second leg clash with Atletico Madrid will signal 15 years in the first team for the 33-year-old.
But, in a career which has seen him win seven Ligas, three Champions League and numerous other accolades, Xavi says the hunger is still there to add further titles to his CV.
"You don't lose that feeling, no," Xavi told the club's official website.
"I think if anything I am more excited now than when I started out, because there are more demands and it's harder with each year.
"There's a lot of competition and everyone has to show they are worth a place in the team.
"I am very happy and proud of all the years I've been here at Barca, the club of my life and the best in the world. I've had a lot of success here, particularly over recent years.
"I've been very happy here and I still am, with three more years on my contract ahead of me. I hope I can stay at the high level such a demanding club requires."
The Spain international also discussed the game with Atletico at Camp Nou after a 1-1 draw in the first leg at the Vicente Calderon last week courtesy of a Neymar equaliser following David Villa's opener.
And, despite the away goal, Xavi says it will be an extremely hard game for him to record his 22nd title with Barca.
"Atletico Madrid are very strong, especially in defence," he continued.
"They have a coach [Diego Simeone] who works hard on defence and, with two lines of four, they hardly allow any space. Their forwards also chip in and help. They are a good side and showed us why they have achieved so much.
"It won't be easy, but we had a good result in the first leg and an away goal is always important. We have to try and move the ball quickly, we'll be on a pitch we like and that's a point in our favour."