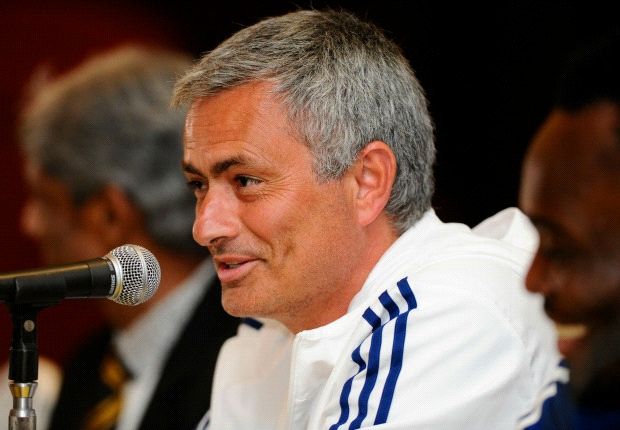 The Chelsea boss has taunted his Bayern Munich counterpart before Friday's game in Prague, questioning whether the Bavarians will be as good without Jupp Heynckes
Jose Mourinho has resumed his rivalry with Pep Guardiola as his Chelsea side prepare to take on Bayern Munich in the Uefa Super Cup.
The Portuguese coach was at the forefront of a number of tempestuous encounters when the two men were in charge at Real Madrid and Barcelona, with one infamous incident seeing Mourinho jab the eye of the Catalans' then assistant boss Tito Vilanova in the 2011 Spanish Super Cup.
Speaking ahead of his team's game against last season's Champions League winners, Mourinho was keen to reignite the rivalry between the two coaches, doubting whether Guardiola will have the same impact as Jupp Heynckes at Bayern.
"It was Jupp Heynckes's Bayern that was the best team in Europe," the 50 year-old Portuguese was quoted by Bild am Sonntag.
"Now they have a new coach and new players - and I'm not sure if they are still as good."
Bayern continued their winning start to the season in the Bundesliga with a 2-0 win over Nurnberg on Saturday but the lost the DFL Supercup to rivals Borussia Dortmund 4-2 in July.
Meanwhile, Mourinho's Chelsea began with a 2-0 win over Hull City Tigers in the Premier League and face Manchester United on Monday.
Mourinho's verbal barbs come as Chelsea attempt to overcome Bayern in Prague on Friday in what is the first Super Cup to be held away from the Stade Louis II in Monaco since it became a one-legged affair in 1998.
The Blues lifted the trophy that year, Gus Poyet scoring in a 1-0 win over Real Madrid, whilst die Roten are still to win it after three attempts.