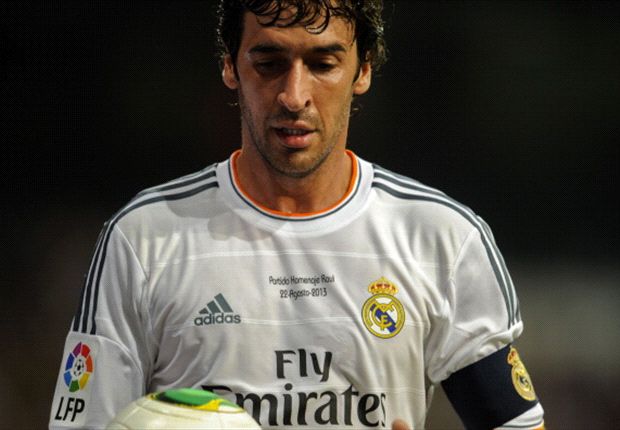 The 36-year-old Al Sadd striker believes for los Blancos to be successful they need to pull together and stop all of their internal disputes
Former
Real Madrid
attacker
Raul
has called for unity at the club if they want to be successful.
Raul, 36,
enjoyed his own success on Thursday as he opened the scoring in his testimonial
in the Trofeo Santiago Bernabeu which Madrid would go on to win 5-0 against Al Sadd - his current club.
But, while it was a night for the Champions League's all-time goalscorer to receive the adulation he deserved and tease Cristiano Ronaldo about not scoring, Madrid supporters voiced their frustrating with the current goalkeeping dispute about which keeper should be No.1 between Iker Casillas and Diego Lopez.
Raul, however, had his own say and believes that, if Carlo Ancelotti's men want to be talking about winning silverware this season, they need to pull together. He said to
Marca
: "You have to be united - the team and the fans.
"I fought for Real every day for 16 years. I felt a lot of love today. I'm even more indebted.
"It's been incredible. I was really looking forward to being on the pitch. Many thanks to the club, the team, the coaching staff. I have felt like a Real Madrid player. It's been very special.
"This is my home and when I have something to offer, I'll be back. I don't see it happening as a player!
"Florentino [Perez] has made me the offer of coming home. Until I do, I'll be watching as a fan and will follow every game just like any other Madrid supporter."
However, Raul believes that Casillas will not take long to be reinstated to the starting XI, despite Carlo Ancelotti following in Jose Mourinho's former footsteps by keeping faith in Lopez at the start of the new campaign in the opening day win over Betis.
"Iker is a great professional and team-mate and is experiencing something new," he told the club's official website.
"But with hard work and effort he will be back helping Real Madrid to achieve their objectives."
Finally, he had his say on Cristiano Ronaldo, whose future has encouraged much speculation with Manchester United and Paris Saint-Germain reportedly showing interest in the 28-year-old this summer.
"I scored a goal and Cristiano didn't," he joked.
"Cristiano is the present and future of Real Madrid and I'm sure he'll continue to be so."