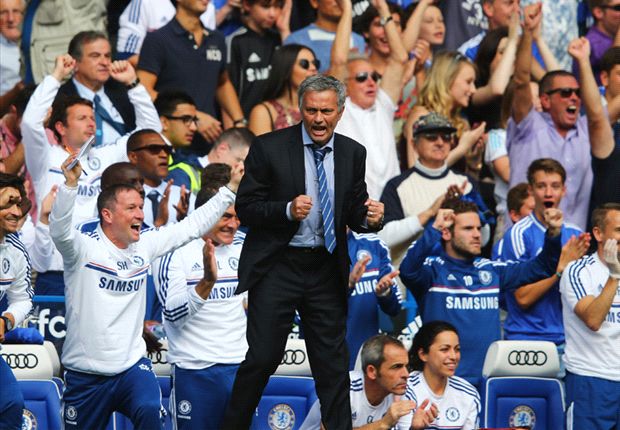 The 50-year-old is looking to emulate the strong relationship he had with Sir Alex Ferguson and hopes Chelsea's pursuit of Wayne Rooney does not have a negative impact
Chelsea
manager
Jose Mourinho
hopes to develop a strong relationship with
Manchester United
manager
David Moyes
regardless of the Blues' interest in
Wayne Rooney
.
The sides meet at Old Trafford on Monday night with Mourinho looking to extend his side's run of results to three consecutive wins, following victories over Hull and Aston Villa.
The former Real Madrid manager also explained that he would not have a problem facing Rooney - who he has seen two bids rejected for - should he line up against Chelsea.
"[I will feel] the same emotions I always feel when I play against him [Rooney]," the Chelsea manager told reporters when asked what his thoughts would be if Rooney features.
"I played against him with Real Madrid and with Chelsea and with Inter. The emotions is you have to be worried with a good player. No more than that.
"For me the difference is the routine of meeting a friend, of being together and relaxed before the match. You have the guarantee that after the match, independent of the result, we are together again, enjoying our time and having a laugh.
"With David [Moyes] we don't have this kind of relationship, but we have a good relationship. I think we can start this kind of very nice relationship I had always with Sir Alex, no problem."
The 50-year-old believes Moyes – who marked his competitive debut as manager with the Community Shield trophy – will cope with the expectations before revealing that the Scot wants to make his own mark at Old Trafford.
He continued: "I think he's in a fantastic position and I think he's going to do very well. I hope he doesn't win everything and he will leave something for the others, but he's in fantastic condition.
"There are things that we cannot change. David [Moyes] has experience and he knows that he cannot change history. The history that Sir Alex [Ferguson] did is there and it is there forever.
"Is that a problem for David? I don't think so. I think David doesn't want to be compared with Sir Alex."