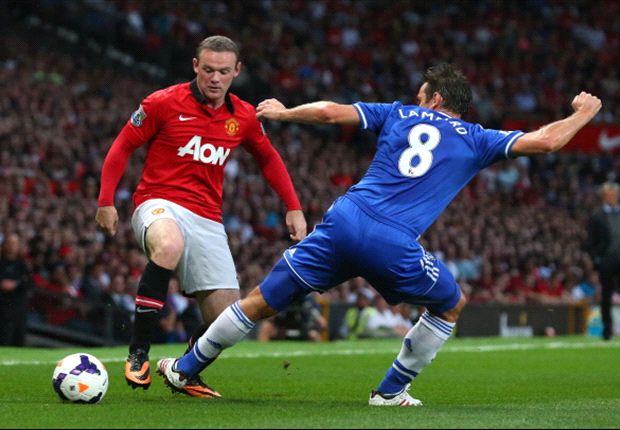 The 50-year-old admits that the Manchester United forward may change his mind and decide to stay at Old Trafford but wants the England international to make his feelings clear
Jose Mourinho has called on Wayne Rooney to make his feelings clear as the Chelsea manager discussed the club's ongoing interest in the Manchester United striker.
The Portuguese was speaking after his side secured a point in a drab 0-0 draw at Old Trafford, in which he named a starting XI without an out-and-out striker.
The Blues have been heavily linked with Anzhi striker Samuel Eto'o late in the transfer window, following an unsuccessful summer pursuit of Rooney, but Mourinho has refused to throw in the towel, instead calling on the 27-year-old to make clear his intentions.
The Chelsea manager told reporters: "We have to speak but this club [Manchester United] must be a very special club, because in every club in the world when a player wants to leave, they don't support him. They give him a hard time but they support him all the way.
"That proves this is a really special club with special fans and I think now he'll decide he wants to stay. If he makes that decision, we will be the first to respect that and say 'it's over.'
"It depends on his reaction, on his feelings. If now, he doesn't want to leave, we are out of the thing. We need to know what is happening."
Chelsea negated much of United's threat on Monday night, securing a result to keep them at the top of the Premier League table, and Mourinho felt that the stalemate was the right outcome.
"I think the result is fair," he remarked. "I think nobody did enough to be better than the opponent. I think we controlled the game for most of the time. We did not have real problems.
"Our passing for counterattack, to go from a defensive situation to an attacking situation, was not the best. We had very creative and fast players in attack but we lost simple passes and made lots of mistakes.
"In terms of attack, we didn't give what we could or what we should, but I told the players before the game that we want to win and we would play to win. I think the players understood.
"For me, we didn't create chances because when we recovered the ball we lost so many easy passes. I will watch it on video and find six, seven or eight easy passes to go for counterattack when the players should and could do more.
"It was a difficult match for them and a difficult match for us. We both wanted to win but we also didn't want to lose. I think it was a really big match but at the end of the day, we have six points from our two matches at home.
"After this difficult start, we are fine. It was also a great experience for our kids - four guys in attack in Eden Hazard, Kevin De Bruyne, Andre Schurrle and Oscar are four babies. To have this experience was very good for them."