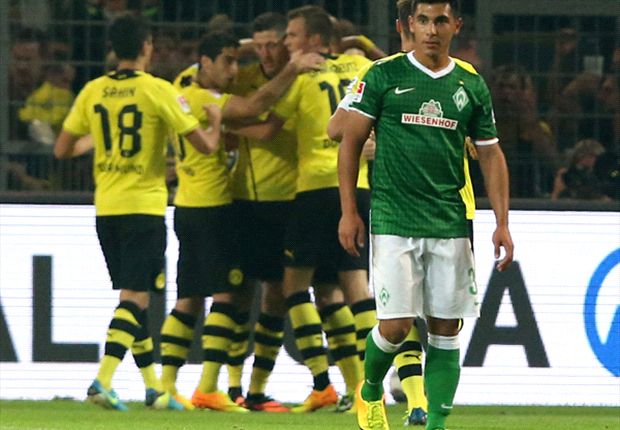 The German top division launched half a century ago to the day and, unsurprisingly, it is Bayern Munich's records and trophy haul that stand out the most
Saturday marks the 50th anniversary of the Bundesliga, which has firmly established himself as one of the game's greatest domestic competitions over the past half-century.
August 24, 1963 witnessed the first ever Bundesliga match, between Werder Bremen and Borussia Dortmund. Timo Konietzka had the honour of scoring the first ever goal, putting BVB ahead after just a minute of action, but Bremen would ultimately prevail, 3-2.
Perhaps, then, it was apt that the two sides who kicked off the Bundesliga would meet again almost 50 years to the day to start the celebrations. However, it would be Dortmund's fans who would be cheering the loudest this time around, following a 1-0 victory over Bremen on Friday night that came courtesy of a solitary strike from Robert Lewandowski.
The Pole, though, has some way to go before he can think about catching the Bundesliga's all-time goalscorer Gerd Muller, whose renowned predatory instincts saw him rack up 365 goals - a top flight record that does not look like getting beaten any time soon, with Claudio Pizarro, the only player still playing today in the top 10 all-time list, currently on 166 goals.
'Der Bomber' was part of the supremely successful Bayern Munich side which won four German league titles between 1969 and 1974, not to mention three European Cups in the 1970s. And it is
die Roten
who have claimed the most titles, with a grand total of 22, with closest rivals Dortmund and Borussia Monchengladbach sharing five a piece.
Bayern seemed to have broken all sorts of records last season in an unprecedented treble-winning campaign under Jupp Heynckes, including most points won in a season, but there are still some records which remain.
Somewhat surprisingly perhaps, BVB were on the receiving end of the heaviest defeat in Bundesliga history, losing 12-0 to Gladbach during the 1977-78 season, while a special mention must go to Hamburg for having competed in all 50 seasons of the Bundesliga.