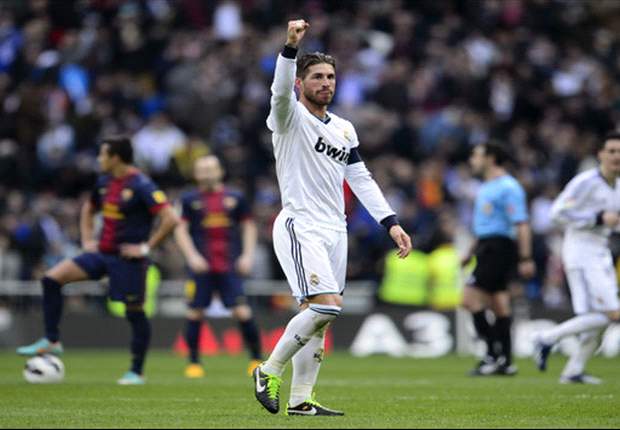 Carlo Ancelotti's preparations for the coming campaign his side in good shape, but the Catalans' chaotic close season could prove costly as La Liga gets underway this weekend.
The
Clasico
is cooling off. Real Madrid and Barcelona have not met since early March and, after the capital club failed to overcome Atletico in the final of the Copa del Rey in May, there will be no meeting with the Catalans in the Spanish Supercopa either. Not until late October will hostilities resume. But even though the two teams have not played each other in five months, it seems Madrid have stolen an early march on their bitter rivals.
The summer has been a period of reinvention for Spain's elite. Both clubs changed coach and begin new projects in 2013-14, when they will be expected to dominate La Liga once again. But on the evidence of pre-season at least, Madrid look to be in superior shape; while Real's pristine preparations have boosted confidence ahead of the coming campaign, the Catalans' chaotic close season threatens to hurt the
Blaugrana
before a ball has even been kicked this term.
Madrid moved early to replace outgoing boss Jose Mourinho, setting their sights on Carlo Ancelotti and quickly getting their man. Several Spanish signings arrived in July, too, as Isco, Asier Illarramendi and Dani Carvajal were snapped up, along with Brazilian midfielder Casemiro. Real still hope to buy Gareth Bale but, even without the Welsh winger, this has been a productive summer. Players have been brought in early and settled (with the exception of Illarramendi who is struggling to overcome the stress and change of scenery since moving from Real Sociedad for in excess of €30 million). A series of competitive clashes against some of Europe's top teams (with PSG, Everton, Chelsea and Inter all beaten) have seen Ancelotti's side gradually gel and evolve ahead of the kick-off this weekend, with Cristiano Ronaldo in fantastic form for the summer friendlies.
Barcelona, meanwhile, have endured trying times since signing Neymar in June. Coach Tito Vilanova vowed to continue into 2013-14 but was forced to stand down on health grounds in late July, just before the club began their pre-season campaign. The first fixture was against Bayern Munich (the only top team Barca have faced this summer), but without a full-time coach and with all of the senior starters bar Lionel Messi on holiday following the Confederations Cup, little was gained from a sterile 2-0 defeat at the Allianz Arena.
Thiago was playing for the German team that night after Barca seemingly made little effort to keep the midfielder, while the club's supporters are also angry at the departure of defender Eric Abidal, who was reported to have been promised a new deal but then left. Two months on, no centre-back has been brought in and the former fans' favourite is now playing for big-spending Monaco in Ligue 1 and France.
Barca have racked up 27 goals since losing against Bayern and netted eight alone in Gerardo Martino's first fixture - the Gamper Trophy clash at home to Santos. But the Brazilians looked like a side on holiday in that game and thrashings of Norwegian team Valerenga and a Thailand XI will have taught 'Tata' little - even if Barca boasted on their website to have scored more goals in pre-season than in any summer for an entire decade.
Neymar's adaptation has proved positive, yet Messi is struggling with injury when he should be raring to go. Martino was angry at a schedule which saw Barca travel to Israel and the West Bank on a 'peace tour' before Bangkok and a meeting with the Thai Royal Family. A plane problem saw the squad stuck on the runway for 90 minutes in Kuala Lumpur, from where Gerard Pique tweeted his frustration about jetlag and being "lost in translation" after so many flights and different countries, with Barca also in Norway and Poland prior to their long-haul trip.
On top of all that, it was a tour with more official acts, events and press conferences than training sessions, while the quality of the opposition will mean Martino will have learned little in comparison to Ancelotti and, with two weeks left in the transfer window, it now looks likely that Barca will not be signing a centre-back, either.
Poor planning in the transfer market and in the pre-season schedule have made for a chaotic few months at the Catalan club, while Madrid have made hay in the summer sun - even without Bale. Barca face several tough games in the first few fixtures of the new league season - starting with Levante on Sunday - and, if they slip up, Madrid look perfectly prepared to capitalise.