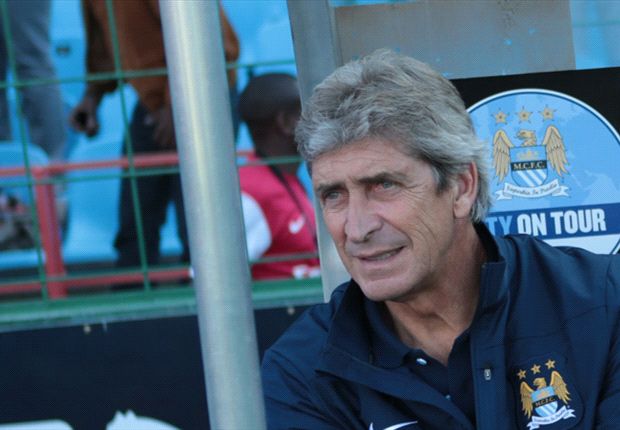 The 2011-12 champions looked to have re-discovered some of the unity that was missing under Roberto Mancini last season during their exhilarating 4-0 opening win over Newcastle
Loved by the fans, loathed by the players. It may seem a cruel summary but it was a fitting one for
Roberto Mancini
by the tortuous end of his
Manchester City
reign, when he had lost the majority of the dressing room.
It is always easier to change a manager than an entire squad and the club's Abu Dhabi high command acted ruthlessly before the 2012-13 season had even ended to purge the Etihad Stadium of the man they felt primarily responsible for a feeble title defence.
Sitting in Mancini's old seat in the dug-out is a coaching sage with similarly stilted English and comparably lustrous locks. Other comparisons between the pair are not immediately obvious.
For his first Premier League match, Manuel Pellegrini opted for a sky blue shirt and tie combination under a navy suit. On a balmy Manchester evening, this was a more subtle offering than the populist club scarf that remained part of Mancini's matchday uniform throughout his three-and-half-year reign.
In the technical area, the 59-year-old Chilean also cut a more low-key figure than the hyperactive, emotional Mancini.
This could partly be attributed to Pellegrini's nature as well as the context of a match that provided one of the most gentle welcomes to the Premier League that a foreign manager has ever had.
On paper, Newcastle United were a demanding assignment. On the pitch, distracted by the late withdrawal of Yohan Cabaye on the day he was the subject of a £10 million bid from Arsenal, they provided feeble opposition.
City were, nonetheless, mightily impressive. They played with pace and authority, and were exhilarating at times. There was a vibrancy to their play that was too often absent last season.
Sometimes, too much is made of continental dugout wisdom. Pellegrini inherited a squad brimming with expensively acquired A-listers, and it has been bolstered even further during the summer break by £100m-plus quartet Fernandinho, Jesus Navas and attacking pair Alvaro Negredo and Stevan Jovetic.
There would be something amiss if they struggled against a Newcastle team that has been reinforced this summer only by the loan acquisition of Loic Remy, who is not yet fit to make his debut for his temporary employers.
Yet, it was clear in the performances of City's players that Pellegrini and his coaching staff have restored some unity to the team.
Under Mancini's demanding leadership, many of those who had scaled the title-winning heights in 2011-12 either trod water or nosedived last season. Some, such as Samir Nasri and Joleon Lescott, completely lost their way.
The early signs are that a change at the helm has brought fresh motivation and a sense of serenity to the dressing room.
City demonstrated with this 4-0 thrashing why they will be many people's favourites in what is already shaping up to be a classic three-way chase for the title alongside Chelsea and Manchester United.
Tactically and personnel-wise, the differences between Pellegrini and Mancini's City teams were only subtle ones.
As was commonplace for home matches under the Italian, City used a form of 4-4-2 with a pair of orthodox strikers supported by two attacking midfielders. Perhaps the main difference in the new set-up was that Jesus Navas hugged the right flank in the second half. This rarely happened under Mancini, who thinks little of old-fashioned wingers.
Yet it was Fernandinho who was the most impressive of the three newcomers (Alvaro Negredo was given a 10-minute cameo at the end). Slotting alongside Yaya Toure in the midfield engine room, the £30m signing from Shakhtar Donetsk protected the defence with great authority in between instigating attacks with shrewd use of the ball. His partnership with the Ivorian powerhouse already looks as if it could develop into something special.
It would be premature to conclude that Premier League novice Pellegrini can make the difference in the title race over the course of a 38-match marathon.
However, what is certain is that he will be less authoritarian and outspoken than Mancini. This will suit players who had tired of the Italian's confrontational style and yearned to hear a different voice.
Those who might not be quite so enamoured with the new manager will be freelance photographers hiding in bushes hoping to catch him fighting with his star striker on the training ground.
Mancini looked cool. Pellegrini will look to keep his.
His predecessor will always be part of Manchester City folklore for steering the club to their first title in 44 years.
Now it is time for the new man to make his mark.